Jah Cutta and East Wave Radio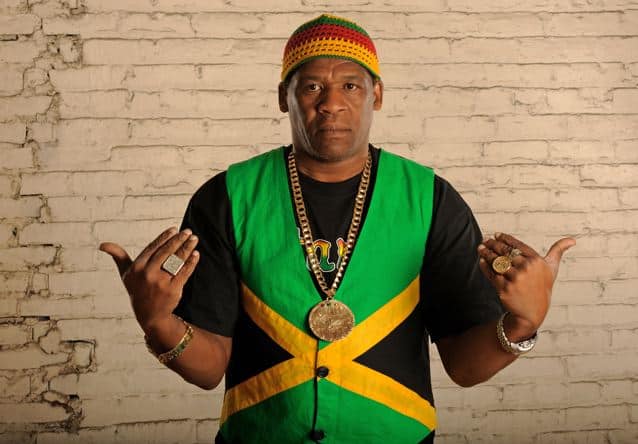 April 24, 2010 @
The Waverley Hotel in Cumberland
a night of roots, reggae and urban dancehall from Portland
As dancehall urban reggae bands go, it gets no better than Jah Cutta and The Determination Band from Montreal. With accolades from everyone including Manu Chao and Sly and Robbie, the Waverley is very excited to have this band play on their stage.
Jah Cutta has been a fixture in the Canadian Reggae community for over two decades. With countless national tours, two critically-acclaimed albums, Canadian Reggae Music Awards and a loyal international fanbase, the lion has decided to roar again in 2010. "Wha Gwan" was a true labor of love that was over 5 years in the making. Recorded both in Jamaica and Canada with help from legendary producers Bobby Digital, Steven Stanley, Soldier, Fata and Nigel and featuring guest appearances from reggae superstars Luciano, Dean Frazor and WarFear, "Wha Gwan" proved to be the most heavy hitting Canadian reggae album of all time.
"Jah Cutta symbolizes stability, longevity and, of course, unspeakably brilliant musicianship." – The Star
"Canada's Top Reggae Act." – Canadian Reggae Music Association
Joining Cutta on this westcoast tour is EastWave Radio from Portland, Maine.
EastWave Radio was first formed by singer & guitarist Dave Gagne in 2006. Carrying on the reggae traditions of his musician parents, he formed his own band fusing roots reggae with more contemporary influences like Sublime, 311, The Police and The Clash. Through 2006 and '07, EastWave Radio was a revolving cast of players, but in early 2008 the lineup solidified with drummer "Steady" Eddie Dickhaut and bassist/vocalist Johnny Venom. The band quickly grew a large fanbase with their popular performances every Sunday night at the Oasis nightclub in Portland Maine.
EastWave Radio is proud to release their debut EP "Soulful Noise", and has a busy summer schedule in 2010, appearing at clubs, festivals across the U.S. and Canada. Fusing old and new school reggae with a variety of other genres, EastWave Radio delivers high energy reggae and rock every time they hit the stage.
www.myspace.com/eastwaveradio