Jesse Roper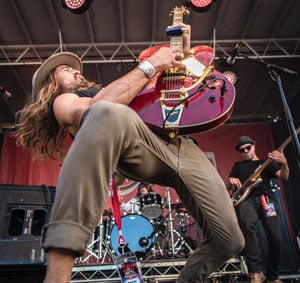 Saturday, March 23, @ Waverley Hotel
Jesse Roper returns to Cumberland for the first time since headlining Cumberland Wild 2018!
Get Tickets Now
Jesse Roper approaches his profession the same way he would make a mixtape. With barriers down and volume up.
"For two weeks I'll play hardcore blues, and then another two weeks in a row I'll play classical, and then another two weeks all I want to do is play reggae," Roper said, a mischievous smile crossing his face. "I'll try anything."
That philosophy is apparent on Access to Infinity, his upcoming third full-length due January 26th, 2018 on Blue Heron Music. Roper describes the anticipated album as "an evolved sound," one that brings to a boil a disparate set of influences.
The B.C. singer-songwriter's innate and impressive musical talent has served him well in recent years. It has given the flexibility to play with soul icon Booker T. Jones, rock veteran Colin James, and blues belter Beth Hart, Canadian legend Burton Cummings, then turn around and headline nightclubs and festivals to younger audiences, and look perfectly comfortable in each scenario. Adventuresome doesn't properly describe Roper as an artist, because when the guitar-wielding dynamo sets out to accomplish something, there's no telling where his mind will wander, or when his energy will go.
"I will be playing guitar for the rest of my life," he said. "Whether I get paid to do it or not."
Red Bird, his celebrated 2015 recording, pushed the definition of blues rock to its outer limits, with Roper warning listeners on the hit, Hurricane's Eye, "that you might be surprised at the treasure you find." Access to Infinity charges even harder. And treasures loom at every step of the journey.
The album features no shortage of future favourites, from stomping first single Access to Infinity and the Hendrix-flavoured Cupid to Cherry, for which Roper recently received $10,000 in video funding from Telus.
Epic jam Worship the Sun brings the album to a close with seven minutes of guitar atmospherics that would make David Gilmour proud. "Walk this earth, fall to the sea," Roper sings, a wall of organ swells cascading behind him. "Worship the sun and the heavenly guitar."
The song, like many on the album, came to Roper in a series of fever dreams. "I was in a weird space for a while. But that lead to a lot of productivity. I could make another record right now."
Wanting to get every detail he heard in his head down on tape, he was a knot of insecurity heading into Vancouver's Warehouse Studio with British producer Ian Davenport. When the recording sessions wrapped, Roper was beat.
He felt no better off than before they began. "It was stressful. I was just trying to push, push, push. I was putting in 16 hour days because the 12-hour days I had booked weren't going to be enough. When I got out of the studio, I was exhausted."
Davenport, who has produced records by Band of Skulls, Supergrass, July Talk, and Radiohead's Phil Selway, wound up being a calming presence, assuring Roper that something special was afoot on the 11-song Access to Infinity.
At first, however, the two had their battles.
"I'm a pretty calm guy, but I can be…me," he said with a mischievous laugh. "Guitar leads? I've never been told how to play a guitar lead – usually, that's my area. But Ian puts this face on and says, 'No, mate.' So we'd go back to the drawing board. He had some brilliant insight on some of these songs that really helped them. I like the direction he went."
That chains-off philosophy has pushed Roper's development as an artist. His stock has risen profoundly in recent years, with festival sets at some of the best Western Canada has to offer, including headlining appearances at Rifflandia and Rock the Shores, and talked-about appearances at the Burnaby Blues and Roots Festival and BreakOut West, among others.
He is looking forward to developing his fan base internationally with Access to Infinity, while keeping his native Canada in view.
"I get treated really well around here. It's exciting and it gives me hope that I could live more of an on-the-road, playing-for-large-crowds life. Which I really do want!"
The stage is where Roper shines. It has been his home since overcoming crippling stage fright during his early twenties. Fear is a part of Roper's past that barely seems real today – especially when you see the in-concert image of a six-string soldier, hair matted to his face, tearing up the stage, without a hint of second-guessing.
"I'm a very positive person, and I wholeheartedly believe in myself. And if I'm not good enough, I'm going to become good enough so I can live this dream."
JesseRoper.ca