KC Roberts & the Live Revolution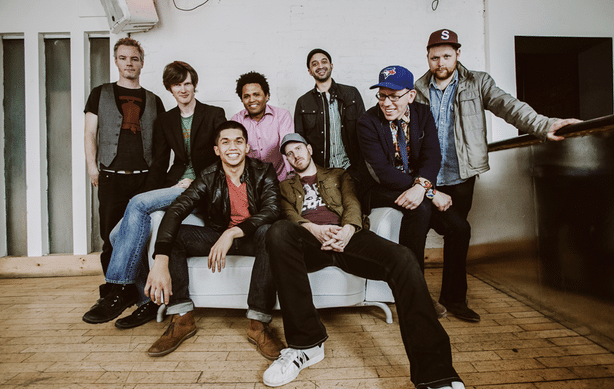 August 8, 2015 @
The Waverley Hotel
Scary good…a blast to hear and just as fun to watch.
After their set at the TD Toronto Jazz Festival in 2012, Artistic Director Josh Grossman called KCLR "scary good…a blast to hear and just as fun to watch." In September 2013, NOW Magazine listed KCLR as one of Toronto's 10 Local Buzz Bands Set to Break Big. And on October 15th, 2013 KCLR will release their fourth record, one that lives up to the buzz generated by their live performances.
Parkdale Funk 2: SIDES (PDF2) is a double LP featuring 27 tracks, 40 guest musicians and over 2 hours of music. Although it's a funk record on the surface, PDF2's track list highlights KCLR's strong jazz, rock and urban influences. The album is a culmination of nearly 2 years of work that was made possible by a crowdfunding initiative to which KCLR's fans contributed $26,000. PDF2 sessions began in 2012, and included contributions by Toronto hip hop legends D-Sisive, The Airplane Boys and DJ Grouch, as well as a live strings section and big band.
KCLR's first LP, Parkdale Funk 1: the Pillage of Bloor West Village, was entirely self-recorded, produced and distributed. Chartattack.com gave the record 4.5 out of 5 stars, raving that "the time, passion and heart that went into this record is undeniable and will blow your mind whether you peruse Toronto's Parkdale or Vancouver's Granville." Exclaim! Magazine raves that Parkdale Funk 1 is filled with "wickedly contagious grooves…truly smoking J.B.'s and Tower of Power-inspired horn charts, sick guitar soloing and colourful keyboard touches."
Throughout 2014, KCLR will be touring across Canada in support of PDF2. The band also has plans to release videos for many of PDF2's tracks, thus building the record into an even larger body of art and further recognizing the incredible support of their fans.
KCLR's pedigree as a live band is well-established, drawing comparisons to The Roots, Jamiroquai and Janelle Monae. The band has regularly shared the stage with major international artists including recent events with DJ Q-Bert, Spectrum Road and Blue King Brown, as well as an upcoming event with soul legend Lee Fields. These achievements have enabled KCLR to become jazz festival favourites around Ontario (TD Toronto Jazz, Beaches Jazz Festival, Aurora Jazz Festival, Jazz on the Mountain at Blue, Sudbury Jazz Festival).
kcroberts.ca