Luther Wright & the Wrongs, The Jack Grace Band & Carolyn Mark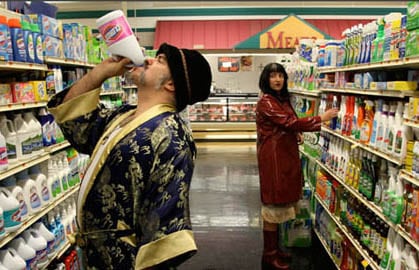 May 28, 2010 @
Waverley Hotel in Cumberland
Triple header bringing Luther from Ontario, Carolyn from B.C. and Jack Grace from New York
together at last. Could be trouble!
CAROLYN MARK
Carolyn did brief stints in such bands as The Metronome Cowboys and The Fixin's before, in 2000, making her Mint Records debut with her first solo album, Party Girl. Since then, and with the help of a revolving cast of Can-Country super stars including, but not limited to, Tolan McNeil, Garth Johnson, Ford Pier, Nathan Tinkham, Corb Lund, NQ Arbuckle, .. Luke Doucet, Amy Honey, Greg MacDonald, Neko Case and Carey Mercer, she has released five more highly acclaimed albums. As well, she has also travelled thousands of miles entertaining crowds of 4 to 4000… touring Canada, the United States, the UK, Norway and Italy. She has shared the stage with such talented musicians as Jenny Whitely, Hank & Lily, Luther Wright, Sarah Harmer, Kelly Hogan, Lederhosen Lucil, Geoff Berner, Joel Plaskett, The Handsome Family, Neil Hamburger, JT and The Clouds, The Shiftless Rounders, NQ Arbuckle, Wanda Jackson, The Waco Brothers, The Sadies and Blue Rodeo.
LUTHER WRIGHT and the WRONGS
Luther Wright has been writing, recording and performing music for over 16 years now. In 1994 he joined up with Sarah Harmer to play lead guitar in the Canadian, pop-rock band, "Weeping Tile" (WEA/Atlantic). During the next 5 years of full-on touring and recording Luther and his roots compadres formed the now-renowned, country/punkgrass road daemons, "Luther Wright & The Wrongs".
Known on one hand for their brilliantly executed, country/bluegrass reworking of Pink Floyd's classic The Wall, Luther and the band have also recorded and released three all-original albums, Hurtin' For Certain (1997), Rogers Waltz (1999), the valentine gone awry, Guitar Pickin' Martyrs (2003), and the recently released, Instrumentality. Also to boot, they made two cds of original childrens music under the guise of Butterfingers.
From its release internationally in 2001, Rebuild the Wall (Universal/Backporch), opened up doors for 'the Wrongs to play over 500 shows of old-country, inspired music across the continent.
The JACK GRACE BAND
A singer, songwriter and guitarist who has made a career out of following no one's rules but his own is probably going to keep doing his thing until his liver lays down the law.
Upon releasing his first solo recording, Introducing the Songs of Jack Grace, many noted the songs had a decidedly country feel. "Fine, call it country if you want," he said at the time. "What you label it doesn't mean all that much to me." What it really meant was that there were new rules to be broken. Country? Fine. Let's do a concept album called the Martini Cowboy, and throw in a bossa nova number with lap steel front and center.
The band members come from all walks of life: jazz, pop, rock, blues — you name it. Along for the ride on this musical journey are some of NYC's finest. Bassist, vocalist and wife Daria has lent her considerable talents to the chamber pop group Melomane and her own quintet, the Pre-War ponies.  Bruce Martin from the Tom Tom Club also helps keep time a lot of the time.  Bill Malchow plays organ, piano and accordion, cracks jokes and sings a bit too. Drinking Songs for Lovers is largely autobiographical. Jack didn't intend for it to happen this way. He compiled his best-loved new tunes as he readied himself for the studio, and realized, not quite to his surprise, that nearly all of them seemed to revolve around a common theme: alcohol.
A consummate live performer, lyricist, singer and guitarist, Jack is at the helm of a powerhouse band that plays kick the can with any musical genre that it stumbles across. Intelligence, humor and unpredictable cross-pollinations of musical categories await.
Needless to say this triple header promises to deliver an evening of musical chemistry that will rival most. The antics begin at 9:30 pm and we are stoked.
myspace.com/lutherwright
myspace.com/carolynmark