Mad Professor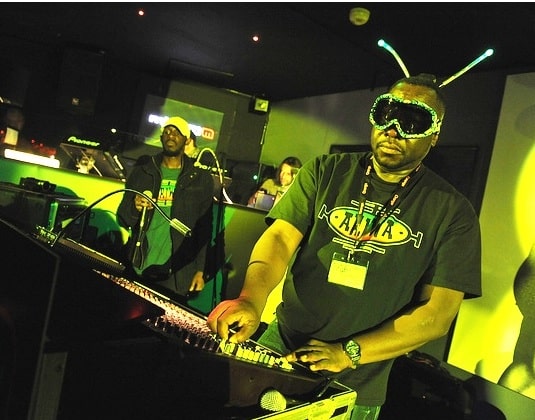 September 30, 2011 @
The Waverley
On the content of his character, and by the results of his recordings, he is one of the sanest record producers.
The name Mad Professor was first given by friends at school, who were amazed by the experiments he carried out as a youth.
Having built a radio and telephone system at the age of 10 years, it was no surprise that his interest and subsequent career in electronics along with a love of Motown, Philadelphia International, Treasure Isle and music of all types propelled him onward.
The early Eighties, having built his own mixing desk, had launched Mad Professor along with the Ariwa Studio/ label from his front room in Thornton Heath. Early works include sessions with Ruts DC, Reggae Regulars, Merger, Jimmy Lindsay, Mikey Dread, Johnny Clarke and many more international artists.
DUB ME CRAZY, the first in a 12 part series of albums, was to become his beacon for the label. With an episode being issued every year, the titles all told a different story.
By the mid Nineties, Mad Professor's profile increased to legendary status. After remixing Massive Attack's second album, Protection. No Protection was instantly received by all corners of the globe, benefiting from Virgin / EMI international launch pad. Professor's personal Dub tours were increased to be a major part of his schedule, along with further remixes which include: Clementine, Tracy Spencer, The Boom, Danny Red, Depeche Mode, Jamiroqui, Rancid, KLF, Beastie Boys, Cidade Negra, Perry Farrell (Jane's Addiction) along with the Massive Attack dub extravaganza all benefiting from the Mad Professor touch.
By 2004 Mad Professor worked with Sly & Robbie at Ariwa, where the Taxi gang laid down their versions of Ariwa rhythms.
Over 100 rhythms were recorded. An album titled The Dub Revolutionarys was released by Sanctuary Records owned Trojan Label.
Fresh demand for the dub show has taken the Ariwa Sound to many far flung places. In 2003 Mad Professor was invited to play at the Greenpeace festival in Manáus, Brazil. Since then, Mad Professor has become an annual visitor to South America, Playing also Argentina, Chile, and Venezuela, Australia, New Zealand, Estonia, Portugal.
In 2005 the dub show played Seoul in Korea, driving several hundreds of fans crazy to the warbler sounds. Bangkok in Thailand in 2006 and Goa in India in 2007, courtesy of the Big Chill. the Mad Traveller also played Dakar, courtesy of the Senegalese govt. Mad Professor is also involved in the Back to Africa festival,
an annual celebration in the Gambia, committed to the positive movement of descendants of Africans, back to Africa.
http://www.ariwa.com/