Matt Anderson & Wil Second Show Added!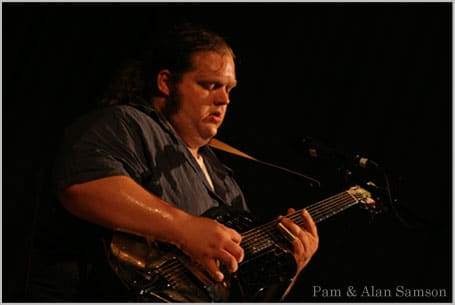 April 4, 2010 @
Waverley Hotel
Second show added! Double Bill featuring Wil, a rhythmic singer songwriter
with amazing stage presence and blues guitarist extraordinaire, Matt Anderson.
New Brunswick, Canada's Matt Andersen has a larger than life showmanship that has been earning him a fervent and steadfast audience wherever he graces the stage. Matt's sprawling blues, roots and rock musical hybrid with his sorrowing and soulful voice and astonishing guitar-playing has sparked a phenomenal buzz on Canada's East Coast and that grass roots word of mouth cannot be contained any longer!
In the past few years, Matt has released an introductory EP along with two critically-acclaimed live fans' favorites, the full length studio release Second time around,Something In-between which garnered two East Coast Music awards for Matt (Male Solo Artist of the Year and Blues Recording of the Year), Piggyback with harmonica virtuoso Mike Stevens and Live at the Phoenix Theatre. Along with a very busy touring schedule as a headliner at major festivals, clubs and theatres throughout North America and the UK, Matt has also shared the stage and toured with David "Honeyboy" Edwards, America, Randy Bachman, the late Bo Diddley, Little Feat and a host of others.
Matt has just finished his fourth successful UK Tour along with airplay on the BBC and in various prominent blues and roots publications. Matt's hectic touring schedule includes over 200 live dates a year that encompass North America and the rest of the world. In Dec. 2009, Matt performed on the CBC Vinyl Cafe tour that is hosted by Stuart Mclean and included major centers between Ottawa and Victoria to capacity crowds. The Vinyl Cafe is a radio variety show on CBC radio, BBC radio 7 and U.S. public radio stations. On Jan 24, 2010 Matt won the 26th edition of the 2010 International Blues Challenge (IBC) in the birthplace of Rock N' Roll and home of the blues, Memphis, TN. Matt was sponsored for this event by the Harvest Jazz & Blues Festival in Fredericton, NB in the solo/duo category. Blues musicians from all over the world including 39 states, 12 countries and 5 continents were chosen by their respected Blues societies to compete in venues on the world-famous Beale Street. As the big winner, Matt opens the door to the U.S. market and the larger world stage! Some of the prizes Matt won include: cash, 1st place International Blues plaque, large profile American festival gigs, festivals in France, Italy and a slot on the Legendary Rhythm and Blues Cruises .Matt has played Vancouver Island Music Fest to thunderous applause.
Sharing the bill with Matt Anderson is Wil. Wil is an extremely engaging singer song writer whose rhythmic guitar style and engaging lyrics set him apart from the average performer in this idiom.
He is an international festival favorite and has previously played the Big Time Out in Cumberland.
He is supporting his new album just relaeased this month. This double bill will be memorable.
See them at the Waverley, Saturday April 3. Advance tickets are $20 and available at Bop City, The Waverley and by phone at 250 336 8322. For more info visit waverleyhotel.ca.
Music starts at 9:30 P.M.
http://www.ibreakstrings.com