Miss Quincy and the Showdown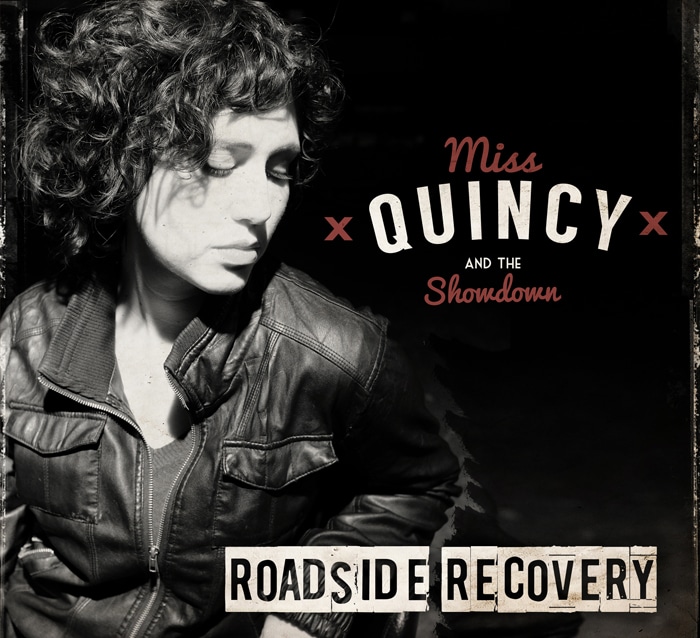 May 2, 2014 @
The Waverley Hotel
You won't find them singing pretty pages out of their diaries, this is down and dirty roots & blues and straight up rock n' roll. Join us for their album release Roadside Recovery.
From the high mountain hunting grounds of northern BC emerges Miss Quincy; knife strapped to her leg and guitar slung over her back, ready to rock 'n' roll like the bad ass…excuse me, Lady, she is. Trusty sidewomen in The Showdown at the ready, Quincy gives a sly glance and launches into a raunchy blues riff, promising the expectant audience, "This one's gonna hurt…"
It's truth in imagery for Canadian all-girl rock 'n' roll band Miss Quincy and the Showdown, who just released Roadside Recovery, the third full-length album for Quincy and first for the full band, on April 8th, 2014. The album is a testament to the touring warriors Quincy and the band truly are; having clocked over 100,000 kms while honing their musical skills crossing no less than seven countries, playing every dirty barroom, music club, house concert and festival on the way. They've mostly seen it all, made their choices good or bad, and now they're gonna tell you all about it. You won't find them singing pretty pages out of their diaries, this is down and dirty roots & blues and straight up rock n' roll.
Roadside Recovery was produced and recorded by Matt Rogers (The Harpoonist and the Axe Murderer) at Afterlife Studio and Neighborhood Studios, who took the road grit and whiskey regrets from the band and liberally scrubbed every track with them.
"Bad Love" leads with a thumping heartbeat, building to a screeching riff; it's a hot little number that makes you wanna crank it to eleven and jump up on the speakers. The album secures it's fate with "What is Life If It Ain't Strange" and "Making Money", while it settles in with slow cookers like "Talkin Trash" and "Take It To The Well". Roadside Recovery is full of soul and vibrant life, breaking boundaries for Miss Quincy and the Showdown, or rather, smashing them down in the style of Joan Jett or the Black Keys.
Miss Quincy began her music career in the wild mountains of northern BC, though she's been a touring warrior since the beginning, releasing her debut Your Mama Don't Like Me in 2010, and follow-up Like The Devil Does in 2012. In the past two years with The Showdown, Miss Quincy has chalked up over 250 shows and 15 festivals through 7 countries throughout Europe and North America, winning fans from near and far. These days it's full steam ahead for the band, who with Roadside Recovery, will cross Canada and return to play throughout Europe again in 2014.
https://soundcloud.com/missquincy