Moontricks + Dirtwire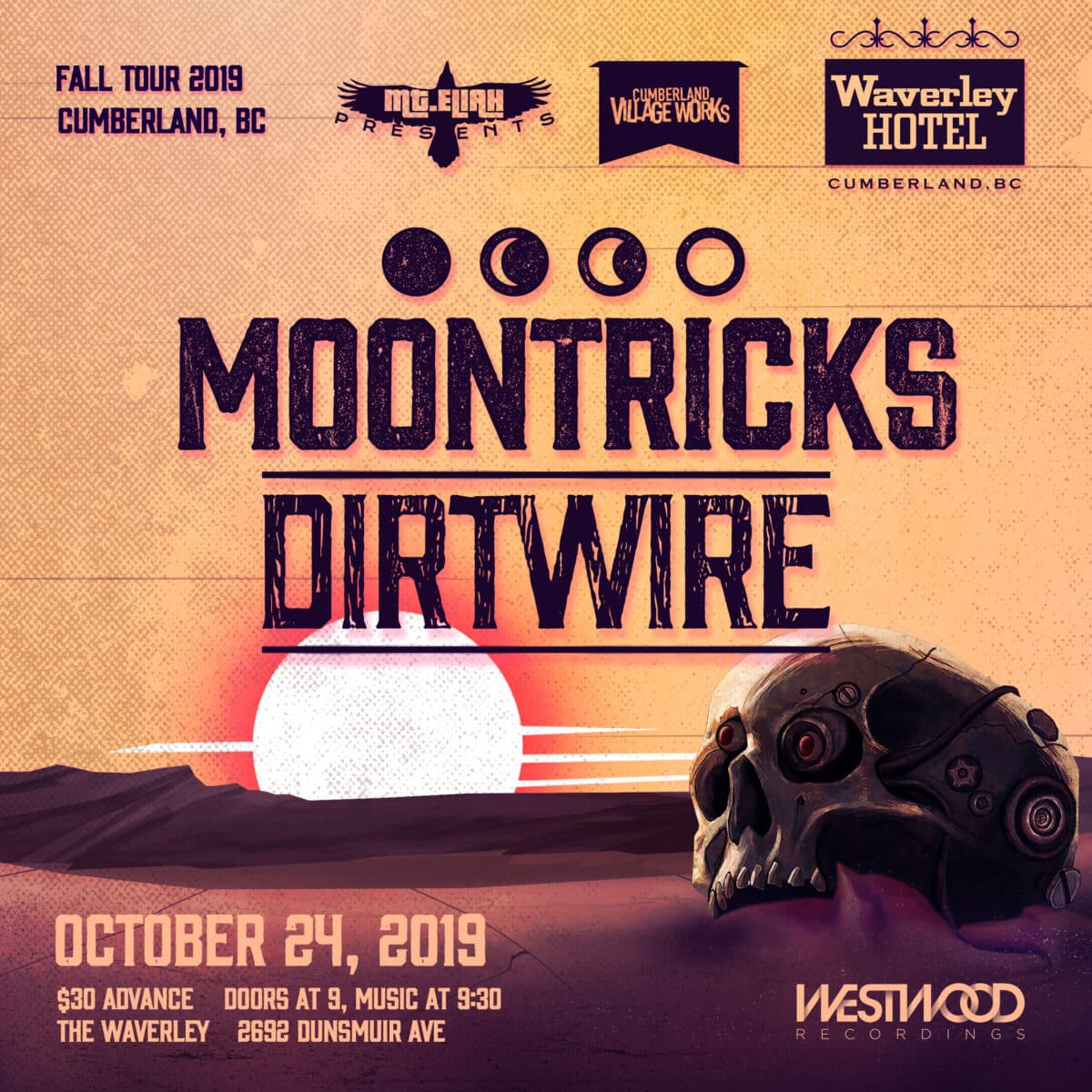 Weds/Thurs, October 23/24, @ The Waverley Hotel
*SECOND SHOW ADDED WEDNESDAY OCT 23*
Fresh off their amazing Cumberland Wild debut, Dirtwire returns to Dodge City with Moontricks on a double bill! The music at this live/electronica show will keep the Waverley dance floor in a groove all evening!
Get Tickets Now
MOONTRICKS
Nestled deep in the beautiful Kootenay mountains of Western Canada lies the home of Moontricks, a duo whose timeless sound captures the essence of their rugged roots. Combining their love of folk, blues, and electronic music, Nathan Gurley and Sean Rodman are blazing
their own trail, merging musical worlds previously unacquainted and capturing audiences along
the way.
Since connecting in their rural hometown through a shared love of music, the pair's chemistry
was instantly apparent. With Gurley at the production helm and Rodman on songwriting and
vocals, they've birthed an authentically raw and seductive sound infusing grassroots blues,
wistful soul, and gritty, boot­stomping bass. Their breakout organic hit "Home" has surpassed 1
million streams and their music is frequently licensed for film and television.
Once a best­ kept secret in Canada's festival circuit, Moontricks is now taking their sound worldwide.
Feeling just as at home on an electronic festival stage one weekend and a folk festival the next,
their spirited live performances feature an assemblage of guitar, keys, banjo, and vocals atop
stunning original productions. Their touring schedule has seen them play across North America
and Australia with stops at major festivals like Lightning In A Bottle, Rainbow Serpent, and
Shambhala Music Festival ­ where they've become fan favourites, playing every year since their
debut in 2013.
From rural beginnings to global festival stages, this humble duo is now taking on the world.
Dazzling audiences with their infectious vibe and unmistakable rhythm, Moontricks are clear
proof that originality and passion can spark a creative odyssey.
DIRTWIRE
Dirtwire is a traveler's collage of Earth-borne instruments and electronic sounds foraged from Electric Forest to the mountains of Tuva. From their home on the west coast of the United States to far-flung destinations all over the world, these troubadours are welcomed for speaking the most unifying language there is: music.
Every live set is a magician's surprise show, an invitation to experience instruments that are usually heard only as samples in electronic music. It is a celebration of the art of the instrument, not just the sound you can record from it. Future revival, swamptronica, spaghetti-step, electro-twang — whatever you call Dirtwire's music, what matters is that you can dance to it, as sure as a lizard dances in the desert.
Dirtwire, comprised of lifelong friends and musicians Evan Fraser, David Satori, and Mark Reveley, are touring now in support of their new record "Road Goes All Night". The road goes further yet, friends. Come see where it leads at a show near you.