New Year's Eve 2012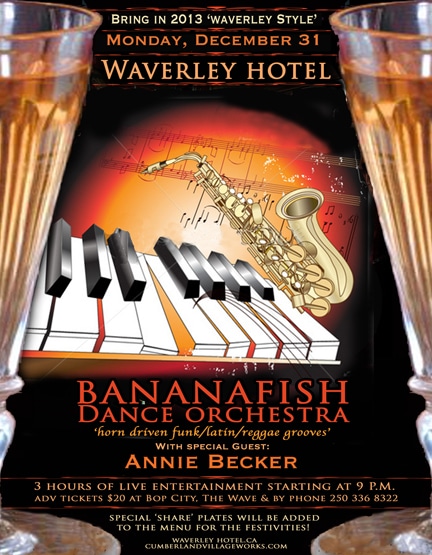 December 31, 2012 @
The Waverley Hotel
There will be toasts and treats, hours of tasty beats. Music and celebration Waverley style. Limited tickets so don't miss out.
Bananafish is a 8-piece powerhouse groove sensation!! With a 3-piece horn section and a 5-piece rhythm section, the music starts playing and the dancing never stops. From Latin to Funk, Jazz Fusion to Reggae & Ska, this band has been proven to keep you movin'. It's members are all Vancouver island residents and have either attended or graduated from the VIU Jazz Degree program.
Bananafish Dance Orchestra played throughout B.C, including Vancouver and Victoria with appearances including Rhythm on the Rock last summer. We are stoked to bring their dancy grooves back to the Waverley!
Opening the night is Ms. Annie Becker. When Annie Becker sings, people listen. Her soulful, sultry voice and undeniably playful charisma will have your feet tapping before you know it. Her music is flavoured with a blend of bohemian-style pop, a touch of soul, layered on top of a folk foundation. As Annie's voice booms over catchy musical harmonies, it displays hints of Regina Spektor quirkiness delivered with the power of Adele with a cheerful honesty that remains dominant throughout every note she plays. Although Annie's artistic journey is one of connectivity and humanity, that collective outlook stands in contrast with the fierce individuality of her music.
http://www.myspace.com/anniebeckermusic