Double Bill – On the Road to Elevate the Arts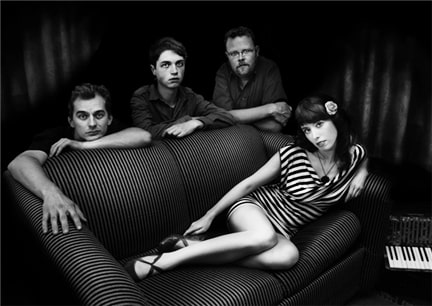 May 3, 2012 @
The Waverley Hotel, Cumberland
Join us for a warm up to Elavate the Arts, Cumberland style featuring Isobel Trigger and National Tape!
Isobel Trigger
Based out of Victoria BC, Isobel Trigger will bring a fresh pop-rock twist to your ever-longing ears. Formed in 2008, this fantastic four-piece will strike you with their fresh style and high energy live show. With exotic vocals, driving lead lines and fun, heart-thumping grooves the band aims to weave a musical web and draw you to the stage. Isobel Trigger is about delicate innocence meeting howling distortion; soft whimsical lyrics sweet shiny tones building and crashing into powerful crescendos. It's little red riding hood and the big bad wolf all in one!
Members Brett Faulkner (Guitar), Felicia Harding (Vocals), Kevin Lynch (Bass) and Zane Coppard (Drums) each bring their own unique elements to these stage, filling the lungs of the music machine. Isobel Trigger has been compared to The Cranberries, No Doubt, Florence and the Machine and Heart, but rest assured they are no copycats! The unique vocal stylings and enchanting melodies insure that nobody could sound quite like this band, and that's the way they like it.

National Tape
Formed in the Spring of 2010 by song-writer Colin Piazza, National Tape is a four-piece Canadian indie rock band hailing from Victoria, British Columbia. Their music is catchy, upbeat, relatable and will make you want to dance your pants off.

Elevate the Arts
Elevate the Arts is a full day culture crawl in the heart of Courtenay to be held Saturday May 5th 2012. Featuring visual art, craft, design, music, photography, dance, film, healing arts, kids stuff and much more – the event will be held at multiple venues (inside, outside and the unexpected) throughout the downtown.
The Vision for this event is a collaborative celebration where organizations, individuals, artists, businesses all contribute to a rich cultural mosaic. The Elevate the Arts production team is both actively recruiting programming and receiving expressions of interest from folks they don't know…yet. They are here to create AND to be the "glue" (marketing, communications and scheduling) for the creative initiatives of others! They will also inspired to help 'animate our downtown' and to breathe new life and fresh energy into our urban core.
Elevate the Arts is a not-for-profit, community driven undertaking by a diverse group of culturally-oriented people. It is their long term goal to develop this event into vibrant and exciting multi-day arts and culture celebration.
Elevate the Arts would love to have you on board for 2012. Your support will help us to develop and expand a grass roots celebration of arts, culture, diversity and creative exploration in our community.
Email [email protected] to share your ideas and inspiration!

www.elevatethearts.com
http://www.myspace.com/nationaltape