Orkestar Slivovica w/Demiran Ćerimović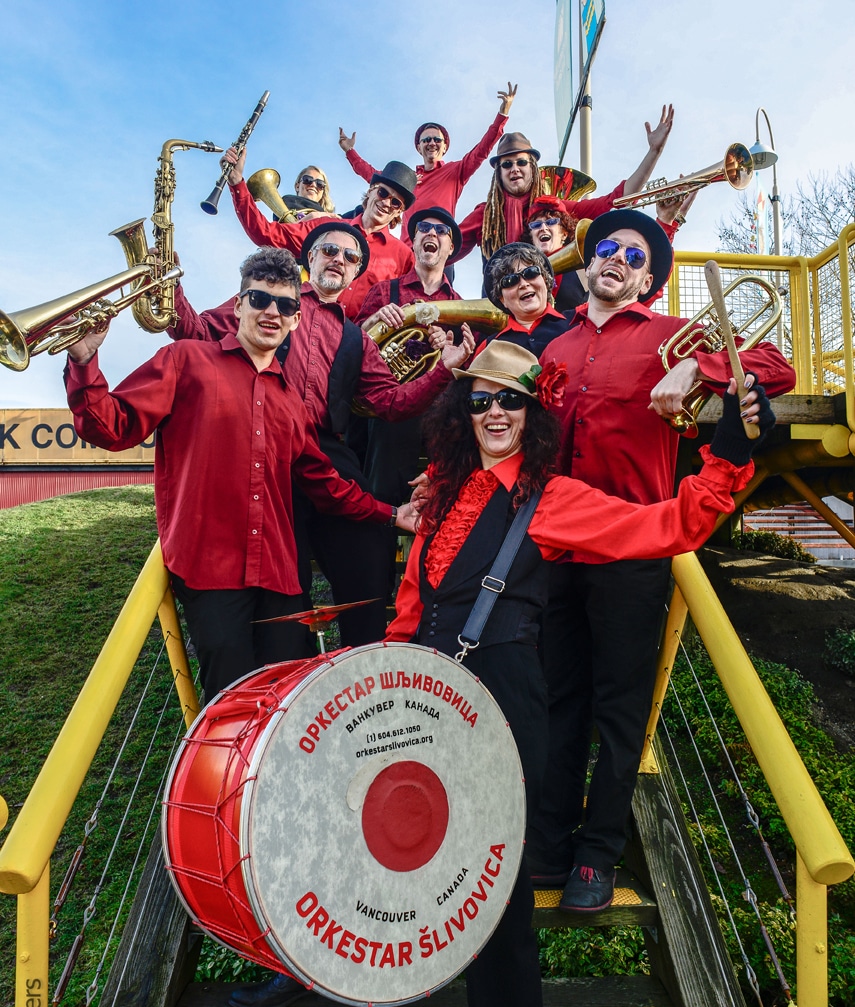 May 7, 2016 @
The Waverley Hotel
Come celebrate the return of Spring 'village' style in Cumberland with Orkestar Slivovica, Demiran Ćerimović and Cathy Stoyko with her Romany dancers.
Click here to buy your tickets now!

Ederlezi is a Spring festive celebrated by Romani people in the Balkans, Turkey and elsewhere around the world. The actual date of this festival falls on May 6th, the feast day of St. George. This holiday would not be complete without flowers, feasting, a brass band and of course dancing!
       Orkestar Slivovica is Vancouver's home-grown Balkan Brass band, playing wedding and festive music from Serbia, Macedonia, and other distant and mysterious lands, where it is known as Trubachi and no such occasion is complete without it. The 8-12 piece brass ensemble plays and sings a diverse repertoire, from insanely fast dance tunes to heartwrenching songs, often in crooked rhythms and exotic scales. Orkestar Slivovica members are; OLIVER SCHNEIDER – alto sax, KRISTINA ZALITE – tapan, goč drums, vocals, JONNINE MAHONEN – rotary flugelhorn, vocals, NIKOLA TOSIC – rotary flugelhorn, vocals, LUKE MOORE – clarinet, ASHTON SWEET – helicon/tuba, STEVE CLEMENTS – tenor horn, JESSE WHITEHEAD – tenor horn and PACHIEL SMITH – tenor horn
     Special visiting guest  Demiran Ćerimović is joining the ensemble for this special Ederlezi tour on rotary flugelhorn and vocals. Demirran is Romani and lives in the small town of Vranje in southern Serbia. He has played traditional Serbian brass music at many Romani and world music festivals in Serbia and beyond since 1997. Seven times he and his band have won the Best Brass Band prize at the Vlasinsko Leto summer festival in Surdulica, south Serbia, and three times (in 2002, 2006 and 2008) at the Guča Trumpet Festival in Guča, Serbia.
      Also, adding to the mix that night, Cathy Stoyko and special guest dancers will start the festivities off with Romany dances from Rajasthan, Egypt, Turkey, Russia, Spain and beyond. This party promises to be the highlight of the Spring season! Shine up your dancing shoes and wear a flower in your hat.

orkestarslivovica.org