Double Bill with Rich Hope & The Ramblin Ambassadors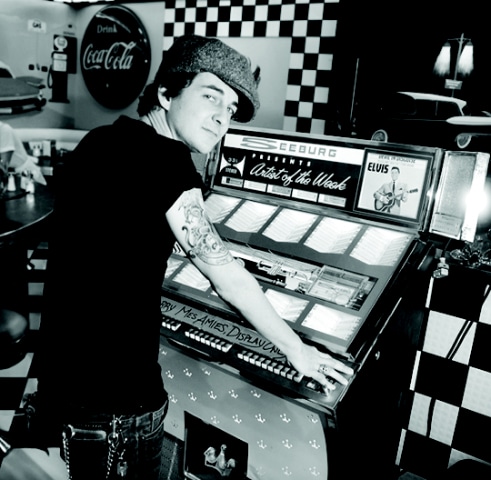 April 9, 2010 @
The Waverley Hotel in Cumberland
"one of the best blues explosions since Howlin' Wolf."
Rich Hope
He's one part hill-country blues, one part rock 'n' roll, and in all the ways the hardest working man in the Vancouver music scene. Reviewer Flora Freisantone wrote that Rich Hope is "one of the best blues explosions since Howlin' Wolf." Backed by his tub-thumping partner, Adrian Mack, Rich Hope and his Evil Doers are, for all intents and purposes, a two-man quartet of trashy boogie blues. In the last few years, Rich has been busy touring England with Jim Reid (the Jesus and Mary Chain), collaborating with Gordie Johnson and opening for the Black Crowes and The Reverend Horton Heat. His hotly anticipated new album Rich Hope Is Gonna Whip It On Ya, will be released on the Sandbag Records label on August 18th, 2009.

 States Hope, "We just got in the space where we wanted to play boogie blues music the way Bo Diddley would."

"Whip It On Ya" and "Blackbird Bakey Pie Blues" bookend matters with two shots of Evil Doing at its most concentrated. The first is a horny elastic shuffle, and the second puts a big backbeat behind Hope's wrangling of a single chord, while "Let's Jump Around Some" is Hound Dog and "Milk Cow Blues" appended to Hope's laundry list of friends, heroes, and fellow-travelers.
But the soul of Whip It On Ya lies in the street corner gospel of "When My Light Comes Shining". Here, a one-day turnaround, sly lyrical nod toward Son House, and some hefty spiritual weight is employed to do God's work with the Devil's music.
After Rich's first solo release "Good to Go" in 1998, the much sought after guitar player joined John Ford and became one of their principle songwriters. John Ford released their self-titled debut in 1999 and what followed was a five year rock n roll journey filled with hard core coast to coast touring, big time management contracts, a major label debut for the band's second album "Bullets for Dreamers" in 2003 and opening slot tours with some of Canada's biggest bands such as The Tragically Hip, 54-40 and Big Sugar.
Fast forward to November 2005 and Rich emerged from this odyssey with his own way to rock.
The CD 'Rich Hope and his Evil Doers' was voted in at #35 for 2006's Top 50 albums of the year by BluesMatters! Magazine.
With thick, dirty guitar this album is finger-lickin' worthy. With a feeling like grease in your arteries, the tracks channel fried chicken and cornbread with a heavy helping of boogie blues and good ol' rock 'n' roll.
The Ramblin Ambassadors
Lead guitarist Brent Cooper(formerly with the wildly popular Huevos Rancheros) indulges his passion for all things tremelo and twang as he leads the band through a dozen tracks that a could be the soundtrack to any Spaghetti Western, beach movie, or 60's gumshoe film noir. The band plays with passion and fire. Eight of the twelve are originals, but the covers, including a version of The Sadies' "Rat Creek," are so obscure they will be new to all but the most fanatical surf fan. It's an album that could have been recorded anytime since the mid 60's with plenty of variety in approach and influences (surf, garage, rockabilly, Tex-Mex, Link Wray) to keep things interesting. Tunes such as the roaring "Cabbage Diablo" tear through their paces at a breathless high-speed pace with enough twists and turns to satisfy a stock car racer. Only the thudding "Lonesome Rambler" clocks in at over four minutes, with a handful at three and the rest getting the job done in even less time. There is no fluff, padding, or filler making this music cruise like the titular vehicles tuned up and ready to cruise to the nearest beach.
http://www.myspace.com/ramblinambassadors