'Rock the Block!' – SOLD OUT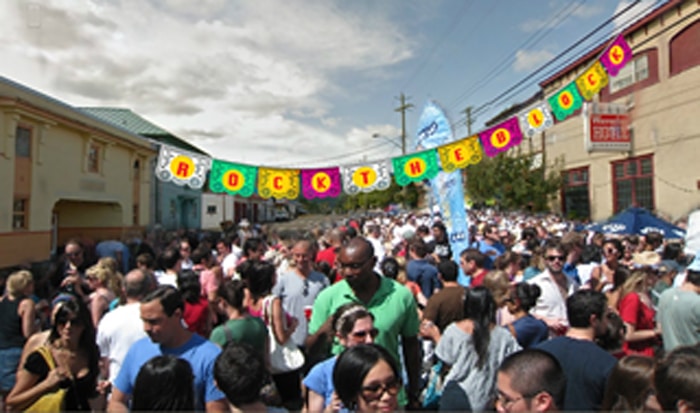 August 2, 2013 @
Dunsmuir Ave. between 1st & 2nd
'Summer's here and the time is right for Dancing in the Street!'
Recognizing that the Waverley Hotel has received accolades all across Canada and beyond for being one of the best venues for live music, we are happy to announce the first licensed  'street' party in Cumberland. With unanimous approval from Mayor and Council, the Waverley is closing Dunsmuir Ave. between 1st and 2nd St. They will be placing a stage in front of the Ilo-Ilo, and in association with Cumberland Village Works, presenting some of their favorite bands from late afternoon 'till after midnight. Enjoy the the summer sun with The Cumberland Brothers, Emily Spiller, Jenny Hoopnosis, The Deep Sea Gypsies, em. mash, Lady K, Kim Churchill, and The Boom Booms.
Kim Churchill's style is explosive, with intricate fingerpicking, percussive beats on the body of the guitar, and two-handed tapping intertwined with an earthy stomp box, powerful harmonica melodies and soulful voice. His songwriting reflects his coastal lifestyle – growing up on the East Coast of Australia, with the surf at his front door – and his nomadic life on the road.  He has been featured at the Big Time Out, the Big Day Up and at packed the Waverley with adoring fans. Check out his music here
The Boom Booms are a Vancouver-based six-piece rock-pop band. Since their 2007 launch, The Boom Booms have built a loyal fanbase that stretches across generations. "Delivered", a surreal banjo ballad that conjures up images of a jungle river baptism, garnered an award for Best Roots Song at the Just Plain Folks Music Awards in Nashville.
Also playing the outdoor stage is Emily Spiller.   A mix of Zap Mama & Feist meets Amy Winehouse. A mash up of blues, jazz, and soul infused vocals that simultaneously ache and soothe. The room falls silent when Emily sings. Emily Spiller is building momentum at home and overseas. A third independent release on her own label, Beacon Hill Records. Three months in Australia promoting her second album "The Get Go", whose title track was featured in two independent Canadian films "Zombie Punch" and "A Lucky Man". Emily has toured extensively in Canada, China, Australia, & New Zealand. Check out her music here.
The Deep Sea Gypsies are based on Vancouver Island, and are greatly influenced by the blues and rock originators of the early to mid 1900′s. A time when music was all about exciting innovation and experimentation. Feeding off this inspiration they then blend in their own unique twist with elements of hip hop, folk and funk. Their songs are reflective of the laid back vibe and lifestyle of western Canada and find a comfortable home anywhere; whether relaxing at a beach fire or dancing at the bar. The Gypsies' first album, Clement Road, is available to stream and download for free on their facebook page.
The Cumberland Brothers
are Archie Pateman (co-founder of Vancouver roots band, The Breakmen) and newcomer Jack Roland (The Wave's Bluegrass Brunch). The two young men specialize in brother harmony style country music and present it with the simple but proficient support of guitar (or banjo) and fiddle. Their sets include a mix of old country songs by artists like The Louvin or Delmore Brothers, and original (but timeless) music penned by Pateman.
http://www.kimchurchill.com/