Roxing Day Funrager feat. Astrocolor w/DJ Murge & WMNStudies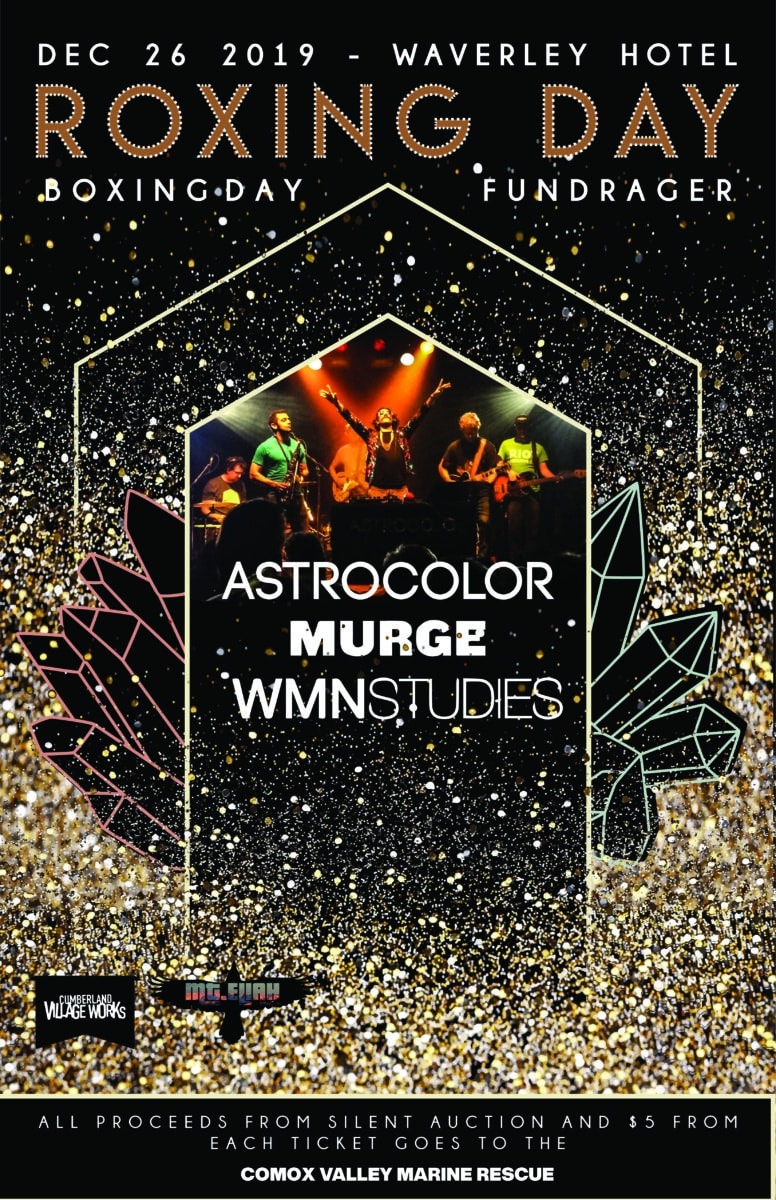 Thursday, December 26, 2019 @ The Waverley Hotel
Cumberland Village Works, Mt. Eliah and Betty & Kora WELCOME you to the Holiday party you've always wished for! Join us on Boxing day for a birthday fundraiser with all the fixings: world class music, dancing, and some good old fashion fund-raging!
Get Tickets Now
Partial proceeds from this event will go directly to the Comox Valley Marine Rescue whose goal is to create more awareness around marine safety and save lives on the water.
Additionally, there will be an amazing silent auction (those who attended last year know what we're talking about!) + games and extra fun things!!!
$25 Advance tickets available now at:
https://mteliah.tickit.ca/
Tune into the dance-worthy sounds at the links below, get your most fabulous, sparkliest holiday attire ready, and get stoked to celebrate ROXING DAY!
www.astrocolormusic.com/
Astrocolor are a 5-piece horn driven live electronic dance party you wont want to miss, they perform and record live electronic music, recalling the Chemical Brothers, Air, and St. Germain. Nominated for Electronic Artist of the Year at the Western Canadian Music Awards, the band plays on the edges of funky house, Balearic, break-beat, and ambient.
https://djmurge.com/
Murge:
A sonic alchemist, Murge weaves the eclectic and the electric to create dancefloor-centric beats that fill the space and lift the crowd. No stranger to packed dance floors or epic stages, Murge is a fixture of BC's electronic music scene, respected and renowned by industry and audiences alike. Embracing a variety of genres, yet always bringing that funky, party-rocking sound, Murge has captivated crowds up and down the west coast for more then a decade and never fails to deliver.
www.facebook.com/WMNSTUDIES/
WMNStudies: Plays Nu-Disco, tropical storm of deep grooves, are a happy-dance-floor-delight. His high energy DJ sets leave every crowd sweaty, smiling and inevitably wanting more.
Once sounding like moody hipsters dancing in the dark WMNSTUDIES has transformed — the lights have turned on and the hipsters are getting down.