Stephen Fearing and Andy White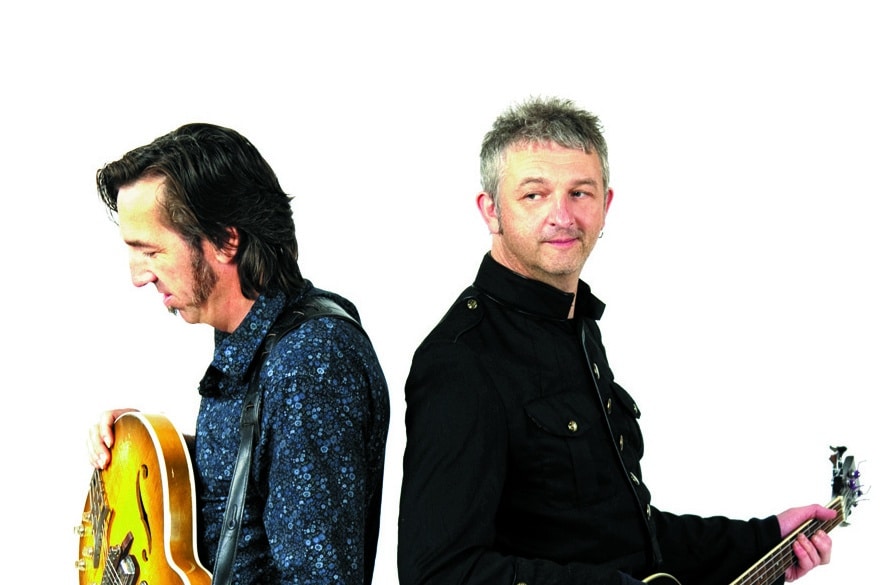 March 19, 2011 @
The Waverley Hotel
Canada meets Ireland from two of roots music's finest.
LowdenProud Records is pleased to announce the label's inaugural release, Fearing & White, a collaboration between Stephen Fearing and Andy White, set for release on March 8, 2011 (distributed by Fontana North).
The album, also a first for the two individually talented and acclaimed singer / songwriters (who boast nineteen solo albums between them), offers up a unique listening experience. Ten years of writing, three weeks of rich analog recording with Scott Merritt (Fred Eaglesmith) at his Guelph studio, The Cottage, and a whole lots of miles spent on the road together have gone into this album, aptly entitled Fearing & White. This eponymous debut duo album is the happy result of a long friendship that has survived both the tyranny of distance and the travails of the road. White now calls Melbourne, Australia, home, while Fearing has recently moved to Halifax on Canada's east coast. Over the past eight years, the two well-travelled troubadours have juggled schedules so they can meet up at least once a year to hang out and write songs. Fearing & White is a collection of 13 of those tunes.
Fearing is well known within the international folk and roots music community as one of its most accomplished songsmiths, storytellers and guitarists. A double Juno award winner in his native Canada, he has experienced commercial and critical success, both in his solo career and with roots/rock supergroup Blackie and The Rodeo Kings. Along the way, Stephen has toured and recorded with everybody from Merle Haggard to Shawn Colvin.
Northern Ireland born and raised White has earned a global following for blending folk and pop stylings with a poet's sensibility. Working with the great names of Irish music – Sinead O'Connor, Van Morrison – and writing with the likes of Peter Gabriel and Neil and Tim Finn, Andy has won Ireland's top songwriting awards and toured the world many times. A published author, his recent on the road journal/novel 21st Century Troubadour has scored rave reviews.
Fearing & White will be the first album bearing the LowdenProud imprint, and it marks an auspicious beginning for the new label. Although a duo project, Fearing & White is not the sound of two singers strumming acoustic guitars round a campfire. It features adventurous sonic atmospheres that perfectly compliment the eloquence of the lyrics, and both artists distinguish themselves on instruments with which they are not usually associated. White contributes melodic bass parts throughout (as well as acoustic guitar), while Fearing's resonant and fluent electric and acoustic guitars shine consistently. Guest drummer/percussionist Ray Farrugia (Junkhouse, Lee Harvey Osmond, Mary Gauthier) supplies a robust and rhythmic kick.
We are working with World Vision on this tour and will be accompanied by Suzy Miller from World Vision. Suzy will be helping us to get some children sponsored, you can find her table space directly beside the merch area.
fearingandwhite.com