Steve Dawson's "Nightshade" album release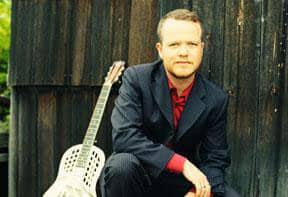 March 11, 2011 @
The Waverley Hotel
Steve Dawson, a guitarist extraordinare returns to the Valley with his latest work.
Steve Dawson is an accomplished Canadian guitarist and multi-instrumentalist. Specializing in slide and fingerstyle guitar, pedal steel, lap steel, banjo and other stringed instruments, he is in-demand as a live performer, session musician, and producer.
Steve grew up in Vancouver, where he began to get into music in his early teens, playing in local venues with numerous bands. After a short time playing the guitar, Steve picked up the bottleneck slide guitar, citing Duane Allman and Ry Cooder as his earliest influences.
Steve's solo career continued and 2005 saw the release of the Juno Award – nominated "We Belong to the Gold Coast" which further explored Steve's love of antique and modern sounds, mixing traditional blues and Hawaiian music with Steve's original songs.
Steve's work as producer and musician has resulted in numerous accolades over they years, including 5 Juno Awards and 11 nominations, 8 Western Canadian Music Awards, and 22 nominations, and a Maple Blues award, among others.
Over the past decade or so Steve Dawson has become such an indelible fixture on the Canadian musical landscape that it's tempting to take him for granted. One of the drawbacks of being so talented is that Dawson makes everything he does sound so effortless. The music that continually flows out of him is so natural and unforced that it's possible to forget all of the toil that went into producing it. Behind the organic, flowing guitar work, the crisp arrangements and the laconic singing voice, resides one of the brightest, hardest working musicians the country has ever produced.
A new solo album from Steve is always something special. Because Dawson is such a diverse artist, you're never quite sure what kind of mood he'll be in when he finally makes it into the studio to record. A master of many genres from gentle acoustic ditties and gut bucket blues through to free flowing experimental compositions, Dawson is comfortable in almost any musical setting you could name, and his newest album, "Nightshade" draws from these many interests to form his most satisfyingly complete album to date.
"Nightshade" represents a significant leap forward for Steve Dawson and is destined to become one of the most admired and well loved albums in an already impressive body of work.
http://www.myspace.com/stevedawson05