Sweatshop Union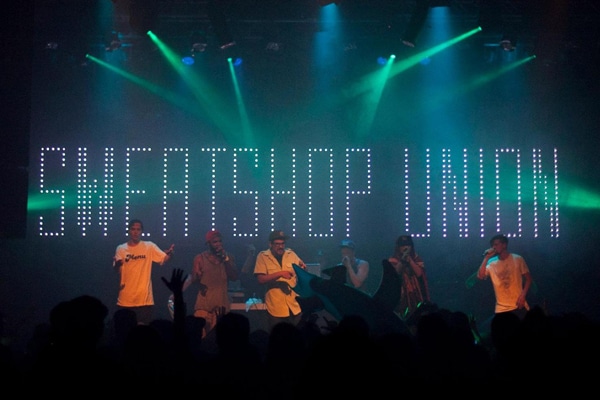 April 26, 2013 @
The Waverley Hotel
Ever popular hip-hop collective, Sweatshop Union is back with Pigeonhole, Leisure Gang and Def 3.
Sweatshop Union are Pacific north-west hip-hop heavyweights, and have earned a reputation as the hardest working collective in the region. Having performed over five hundred shows internationally, they continue to change the perception of what live hip-hop can achieve.
The group's most ambitious record to date was the 2011 award winning Bill Murray EP, (Western Canadian Music Awards' Hip Hop Album of the Year) and brought a whole new level to their steadily growing underground following.  Building on this they have now completed recording their seventh studio release; Infinite, hits stores May 7.
Combined with more festivals that ever before and a grueling schedule to start 2013 throughout North America, it's obvious they are poised for another big year and further the progressive sound they're known for.
Recently, URB Magazine featured them in their next top 100. They're not alone in thinking that Sweatshop Union is a band worth keeping an eye on. Their consistently fresh and poignant music continues to become more relevant daily and the group shows no signs of slowing down.
SSU is joined by Pigeonhole. Pigeon Hole are two Vancouver Island based producer/mc's with a constant evolving sound and ability to crank out next level music. Their output as members of Sweatshop Union is evidence of leaps in style, delivery and approach from album to album. Chimpblood, the groups second offering, delivers a sound so powerful it's impossible to ignore. Check out their new release: http://sweatshopunion.com/album/chimp-blood/
SSU is joined by Def3, who has recently also joined forces with Vancouver's Sweatshop Union and their latest release as part of the Leisure Gang. Def has been touring extensively with Sweatshop throughout Canada and the U.S for the past 14 months. He is currently promoting his latest EP entitled "Amnesia". The EP features Moka Only, Josh Martinez, Tonye Aganabe and Ra Focus. Expect to hear a lot more from Def in the next few years as he is just getting started. Please Download "Amnesia" FREE at www.def3.ca. He is currently awaiting the release of his newest album entitled "Wildlife" with Saskatoon producer Factor to be released spring 2013.
https://www.facebook.com/sweatshopunionfamily