Taj Weekes & Adowa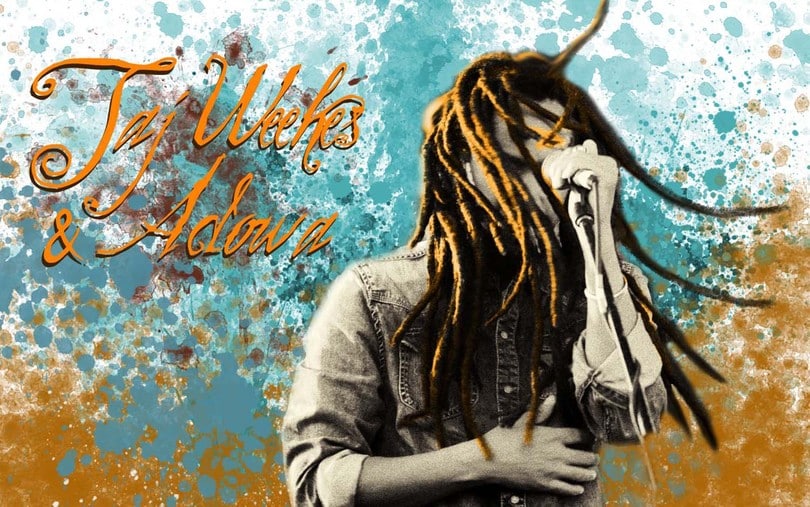 June 28, 2013 @
The Waverley Hotel
"Let your vibes be high and your message mighty!"
The three albums released over the past eight years by Taj Weekes on his Jatta Records label have established the St. Lucia born Rastafarian reggae artist as a compelling singer/songwriter/guitarist who eschews passing trends and disposable beats, favoring provocative messages set to the multi-textured rhythms intricately crafted by his pan-Caribbean band Adowa. "Hope & Doubt", released in 2005, introduced Taj Weekes & Adowa's distinctive musical brand, an amalgam of calypso, country and western, jazz, blues, and rock strains, anchored in skanking reggae guitars and drum and bass driven one drop rhythms. Their sophomore album "Deidem", released in 2008, was honored as the Best Reggae Album at the Just Plain Folks Music Awards. Their 2010 release, "A Waterlogged Soul Kitchen", which pays homage Hurricane Katrina survivors, ranked among many critics best-of lists for that year.
While radio airwaves are notoriously unwelcoming towards singer/songwriters with consciousness-raising messages, Taj Weekes & Adowa's rapidly expanding fan base, extending from Eastern Europe across North America and throughout the Caribbean stems from the critical praise their three albums have received and, especially, audiences' roaring approval of their enthralling live concerts. "I've always focused on reaching people, not just playing music; if you have a good product and don't sell yourself short because you are not getting sufficient airplay, eventually the audiences will come and then something will happen; whatever happens, my intention is to remain true to the music," Taj asserts.
Serving as a vibrant souvenir for listeners who have already experienced their concerts and an unforgettable introduction for those who haven't, Taj Weekes & Adowa's fourth album "Pariah In Transit", due for release on April 9th on Jatta Records, with distribution through Megawave, features 10 tracks recorded at their various performances over the past two years throughout North America and at St. Lucia's world-renowned jazz festival in May 2011. The album's curious title, Taj explains, reflects his position in the overall reggae narrative, "on the outskirts trying to get in but not really being allowed to. We weren't born in Jamaica, reggae's birthplace, which is one of the greatest adversities we face," Taj remarked. Adowa, named after the first Italian-Ethiopian War that secured Ethiopian sovereignty on March 1, 1896, represents a broad swathe of the Caribbean archipelago with Radss Desiree, (Dominica) on bass; Adoni Xavier (Trinidad) guitar, vocals; John Hewitt (Barbados) keyboards, vocals and Cornel Marshall (Jamaica) drums, vocals. "People don't listen to jazz or rock from just one place so why should we be looking to one geographic location for great reggae music?" Taj asks.
https://www.facebook.com/tajandadowa