Tambura Rasa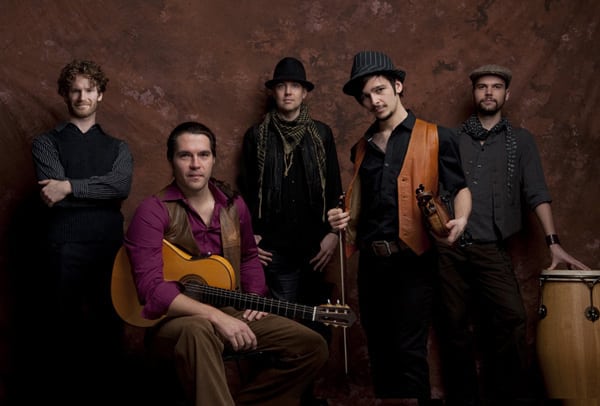 May 13, 2011 @
The Waverley Hotel
Electrifying Flamenco and Gypsy-Jazz Fusion mixed with Balkan and Sharqui Beats. These globalistas created major excitement at the Big Time Out!
Tambura Rasa is a buoyant cultural cross-pollination that fuses contemporary and traditional sounds and rhythms into one energetic musical brand all their own! Packed with fiery Spanish guitar, Gypsy violin and burning Afro-Latin percussion, this 5-piece act raises the roof and lights-up skies of any concert grounds they land on. They also blend their music with sensual Flamenco, Samba and Belly dancers.
Their latest release, "Tambura Rasa Beats" was nominated for the Western Canadian Music Award 2010 World Recording of the Year. The new CD "Adsum" is released in 2011.
Tambura Rasa blends genres and cultures from every continent on three powerful albums starting with the release of "Sunrise on a New World" in 2004. In 2006, the band followed that CD up with 'Viaje' (Journey) and then with the latest project in 2008, 'Kamanala' (Sanskrit for Fire of Love). The famous lounge compilation 'Café del Mar' (vol XIII and XVI) released Electronic mixes of two of their songs (Cinnabar and Gypsy Love from the 2009 'Tambura Rasa Beats' collection) and hit world music charts and air-waves all around the planet.
Global in its reach, Tambura Rasa has become BC's favorite caravan of vivacious globalistas, filling everything from intimate soft-seat theatre shows, large dance filled festivals to hip urban clubs in attempt to bring dance, joy and vigor to the world around them.
http://www.myspace.com/tamburarasa