Tambura Rasa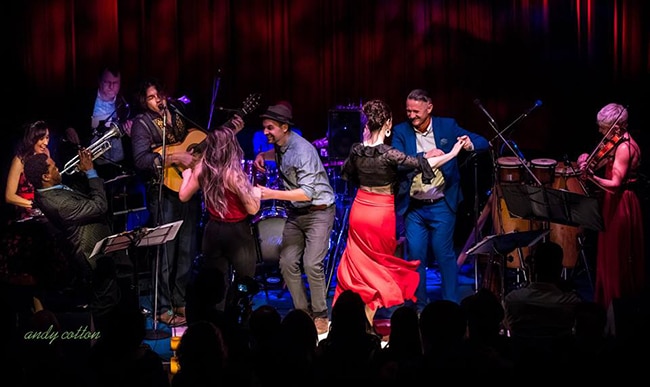 Friday, April 12, @ Waverley Hotel
Tambura Rasa will entertain the Waverley crowd with a full 8-piece band, and Flamenco dancer!
Get Tickets Now
Ivan Tucakov
Ivan Tucakov was born in Belgrade, Serbia. He spent the first eight years of his childhood in the plains of central Turkey after which he moved back to Serbia, both the crossroads of Eastern and Western Cultures. Throughout the years, Ivan has traveled extensively in pursuit of artistic inspiration. Since moving to Vancouver and finishing his computer science and physics honors program at University of British Columbia, he formed the Tambura Rasa collective with the aim of expanding the boundaries of world-fusion music.
As a writer and a composer, Ivan's artistic inclinations have taken him into various directions: releasing seven collections of original compositions under the world fusion act Tambura Rasa and two albums with pianist Oriana White called "Vino & Forte", with influences by Balkan, Flamenco, Classical, Indian classical, Turkish and many other forms of music. He produced electronic mixes, some of which were released on the European "Cafe del Mar" lounge compilations. In 2013, Toronto based radio station Jazz FM interviewed Ivan for a special edition documentary series called "Identities". Besides the core Tambura Rasa ensemble, Tucakov collaborates with string quartets, flamenco, belly and samba dance troupes, classical pianists and a variety of other guest artists during his live shows.
Tambura Rasa
Tambura Rasa is an eclectic assembly of performers and cultures from all corners of the globe. The act weaves a tapestry of sound and dance from Balkans, Spain, Turkey, Middle East and beyond.
They have become BC's favorite caravan of vivacious globalistas, filling everything from intimate soft-seat theatre shows to large dance filled festivals in attempt to bring joy, vigor and dance to the world around them.
Join them as they merge the sounds of the East and the West, of the present and the past – a show of contemporary musical fusion and variety of cultural styles from all around the world.
"As the globe stresses and strains along artificially drawn borders, Ivan Tucakov and Tambura Rasa pick up the musical threads that bind us all and weave them into a tapestry of discovery and delight."
– Cal Koat – World Beats Radio Canada
Arribada (2014)
The latest album called "Arribada" is a remarkably diverse collection of music, which brings Tucakov's most recent compositions to an eclectic assembly of performers and cultures from all corners of the globe. The album lifts off with an outlandish and captivating cover of a classic rock & roll tune, which is followed by an upbeat dance clave taking you straight to Cuba! The journey then continues on with a luscious fusion of classical strings, traditional Balkan brass, tamburicas, Turkish darbuka, Indian tabla, bansuri, Flamenco guitar and more. Delve into this spellbound world of odd rhythms, dance grooves and sensual melodies. Experience the allure of "Arribada".
Tambura Rasa core line-up:
Ivan Tucakov – guitar
Colin Maskell – Sax/flute
Robin Layne – percussion
Kerry Galloway – bass
Randall Stoll – percussion/drums
Cameron Wilson – violin
Oriana White – piano
String Quartet Orchestra
Flamenco, Belly, Balkan, Persian and Belly Dancers