The Big Time Out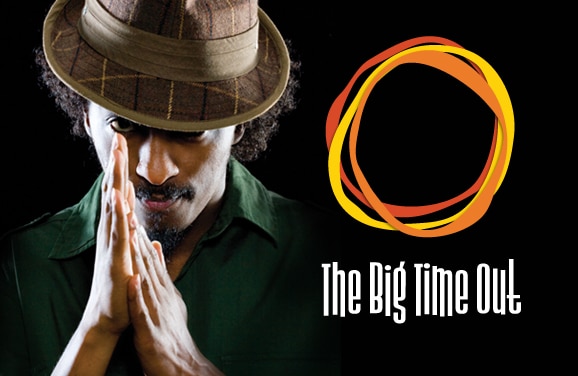 August 14, 2010 @
Cumberland Village Park
This summer we're excited to be going back to a two day event.
All your BTO favourites will be in effect: dancers, acrobatics and circus performers, the Chai tent and, of course, the Union Saloon.
We'll be showcasing the great music, creative collaborations and unique surprises that have been the signature of Cumberland Village Works shows since 2005.
The Big Time Out Weaves its Magic in Cumberland, August 14 & 15
The Big Time Out music festival will be back in Cumberland on August 14 and 15.  Led by the driving beats and powerful messages of hip hop sensation K'naan, the festival will be weaving its intricate mix of music, magic and sunshine in downtown's Village Park.
Featuring:
K'naan
Broken Social Scene
Hannah Georgas
Winter Gloves
Ohbijou
The Acorn
Mutaytor
Ruby Jean and the Thoughtful Bees
Humans
Vitaminsforyou
Shamik
Tambura Rasa
Luzna Orchestra
and more…
Performance Schedule
Saturday – Gates open at noon
12:45-1:30 • Kim Churchill
1:45-2:30 • Shamik
3:00-4:00 • Humans
4:30-5:30 • Hannah Georgas
6:00-7:00 • Vitaminsforyou
7:30-8:30 • Ruby Jean & The Thoughtful Bees
9:00-10:00 • Winter Gloves
11:00-12:30 • Broken Social Scene
Sunday – Gates open at 1:00pm
1:00-1:45 • Kim Churchill
2:15-3:10 • Luzna Orchestra
3:40-4:35 • Tambura Rasa
5:05-6:00 • Ohbijou
6:30-7:30 • The Acorn
8:00-9:00 • The Mutaytor
10:00-11:30 • K'naan
Now in its fifth year, The Big Time Out is unique among Vancouver Island's festivals, using a single stage as the focal point.  "I've been to festivals around the world," says producer Vig Schulman, "and the intimacy and focus that comes from a single stage is really magic."
Both days of the festival will be chock-full with ten hours of non-stop entertainment including circus performance, spoken word, acrobatics and, of course, flat out dance music.  The legendary Chai tent—a 40 ft. teepee created right here in Cumberland—will feature dance performances, downtempo music and surprises for the whole family.
This year's musical roster is led by Somali-Canadian hip hop star K'naan, a musician who's blazed a musical path through reggae, funk, pop, soul and, above all, hip hop.
K'naan's latest, Juno-award winning album was recorded primarily in Jamaica. He was granted unprecedented access by his friends Stephen and Damian Marley to their famous father's original home studio and the legendary Tuff Gong studios. Its lyricism and poetry are also striking, due in part to K'naan's lineage from a line of Somali poets and musicians.  The resulting album, Troubadour, is a hip hop album like no other.
On Troubador K'naan successfully blends samples and live instrumentation for a sound that's both rooted in traditional African melodies and the classic hip hop tradition.  His social commitment, infectious musical compositions and extremely charismatic stage presence have placed him in the top tier of popular artists touring the world today.
More details from The Big Time Out's 2010 line-up will be announced in the coming weeks.  In the meantime, festival goers can take advantage of a limited supply of $80 digital-only weekend passes from the online ticket store at store.cumberlandvillageworks.com.
thebigtimeout.com