The Breakmen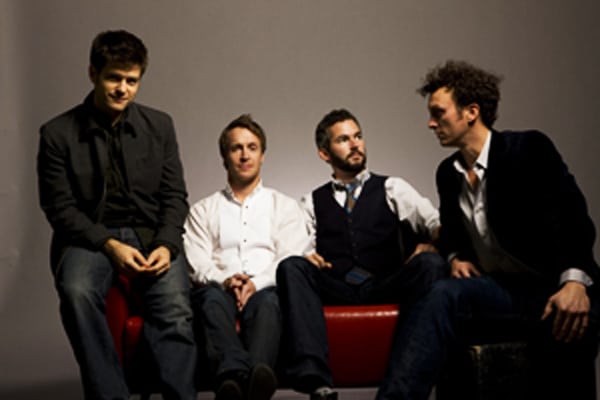 February 9, 2012 @
The Waverley Hotel
Come out and enjoy the Kings of Harmony.
What started out as adventurous bluegrass quartet has fast become a sharply focused roots music outfit that owes as much to The Band and Blue Rodeo as it does to John Hartford and Bill Monroe.
With a strikingly original repertoire, and a lively on-stage show, the band made a strong name for itself at festivals and clubs across the country. Last year the group earned two nominations at the Canadian Folk Music Awards — for Emerging Artist(s) of the Year and for Vocal Ensemble of the Year — and won the Vox Pop Award for "Americana Album of the Year" at the Independent Music Awards.
Now, with Heartwood, the band's signature sound remains, but members Matthew Lawson, Archie Pateman, Ben Rogalsky and Lee Watson are moving in a new, exciting direction. Now you'll also hear touches of soul, classic R & B, a bit of old country and a solid taste of roots rock and roll.
The band's new record fits perfectly into the roots/rock "Americana" / "Indie Folk" genre, There are 10 original songs by band members Pateman and Watson. — and a song from the reclusive Toronto singer Mary Margaret O'Hara, which the band found on her only album, released in 1988. Heartwood debuted at #1 on Earshot's Folk/Roots/Blues charts for November of 2010.
Like Ben Franklin with his kite, The Breakmen are messing with electricity — and in fact Lee (who is a guitar builder) has made two Telecaster-styled electric guitars for the band — new directions can be challenging and inspiring at the same time."
Pateman, who lives in Cumberland, is excited to contribute one half of the proceeds from both shows to YANA, a Comox organization that helps families from the valley who need to seek medical assistance for their children that they can't get at home. This unique charity has funded thousands of trips for medical treatment in Vancouver, Victoria, Toronto and even the U.S. and England. When Pateman's youngest son, Clyde, was born the family relocated to Victoria due to his premature arrival. YANA helped his family, and with support of the band, and their loyal fan-base, Pateman is keen to give back.
https://www.facebook.com/thebreakmen