The Funk Hunters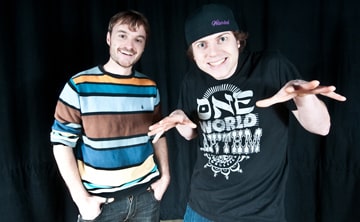 November 10, 2012 @
The Waverley Hotel, Cumberland
The Funk Hunters closed the Pyramid Lounge at this year's Big Time Out. They are coming back for another helping!
In just a few short years, The Funk Hunters have built an international following, releasing music on labels around the globe and showcasing their signature high-energy DJ sets at some of the world's most popular music festivals and clubs. The duo (Dunks & The Outlier) first teamed up because of a mutual love for "Hunting" good music, and today this passion still rings true as they continue to champion the simple but often lost idea that the music itself comes first, regardless of attachments to genre. The Funk Hunters name is now in high demand, receiving bookings, accolades, and remix requests from all corners of the electronic music scene.
Armed with 4-turntables and the unique ability to create live mashups and remixes, their DJ sets standout. Seamlessly blending original productions with everything from HipHop to Funk, Disco to House, Dubstep to DnB, and everything in between, The Funk Hunters create original sets never replicated. It's not uncommon to find this duo headlining an all bass music festival one night and then performing a funk, soul, or boogie set the next. They have toured across Canada multiple times, played to crowds of thousands at renowned festivals such as the Shambhala Music Festival and the Telus World Ski & Snowboard Festival, and have been invited to share the stage with musical pioneers like Z-Trip, RJD2, and Cut Chemist. In 2010, they completed their first month-long international tour, playing shows across the country of Brazil. 2012 will see them complete their first tour of the UK & Europe.
thefunkhunters.com