The Tequila Mockingbird Orchestra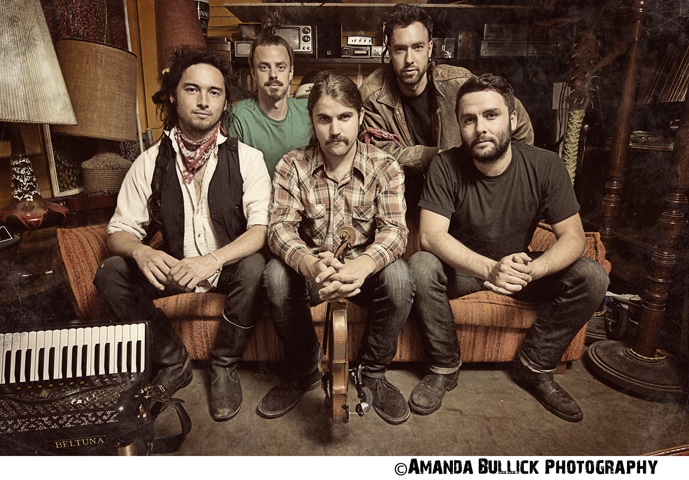 January 14, 2012 @
The Waverley Hotel
Don't miss your chance to see this band one on of their last West Coast stops before moving to Toronto.
2011 has had a lot of surprises in store for the band with no town to call their home. After attending the Folk Alliance Conference in Memphis Tennessee this February (where their unique style of cross genre contemporary folk peaked interest from festivals and venues across the US and Canada) the band surprisingly had to cancel their spring recording session and tour at the very last minute. But with new music bursting from the seams, it took very little time to reschedule a more creative session for June 2011. The Tequila Mockingbird Orchestra spent the month of June in a tiny cabin on a farm, with no electricity….on a secluded island…together…always together….(…!) creating, merging, and once again melding with expertise, their version of gypsy-roots-grass.
For those of us waiting with baited breathe to hear TMO's newest recordings, there is a 5 song EP in the works with a widening sound that binds the country-roots feel and harmonic storytelling of "The Blanche Album", with the Roma and African inspiration that the band is known for from "The Double EP", and as always, is firmly grounded in traditional and roots music.
The EP will be released for promotional use only, featuring this years festival hits "The Otter Song" ("Shine") and "Mountains On Fire", as well as a new recording of "Home On The Water", which has been quoted by one young fan as being "the song of our generation". With an absolute truth to their music that is immediately recognized by audiences, The EP sees TMO experimenting with purposefully plodding and visceral rhythms, described as "like a heard of elephants being held back tight with reigns", interwoven with elemental break downs, jazz flourishes, and often unadorned, but striking vocals . The ballads have a nostalgic, romantic appeal and a developing mastership of group vocals and 3 part harmonies. It is as the band says, just a blueprint of the next album, to be recorded in January, 2012.
The Tequila Mockingbird Orchestra's previous release "The Blanche Album" (2009) was quoted as "that most rare of records: a studio CD that manages to capture the fun of their high-energy onstage performances. They refer to their music as gypsy-ska-folk-grass, and unlike most other bands with eclectic roots like this, they actually pull off the different influences." Devon Leger, Victory Music Review (Seattle). The album pays homage to their beloved piano-carrying touring bus, complete with pot belly stove, hard woods floors, ( and a front seat tied in with rope) that died on the banks of Logan Lake, BC. Although nothing could take her place, upon realizing the free time that comes with being able to be on time for a gig if travelling faster than 35km an hour, TMO has found a new love for their speedy 15 passenger 'lead top hat'
Started as a jam band in a Victoria BC's open mic, The Tequila Mockingbird Orchestra have consistently followed the demands of their fans, taking them from a 4 month tour in Europe in 2008, and national tours in 2009 and 2010 that garnered much recognition, wining 2010 Monday Magazine "M" award for Most Promising Local Band, and performing showcases at NXNE, Folk Alliance, and this year at OCFF. These travels have also developed the bands collection of 13 typewriters, 3 pairs of riding boots (found in abandoned houses in the prairies), two shaving kits complete with shoe polishers, a fountain pen, numerous pocket watches, 25 golden deblumes, and 13 hay pennies….
TMO has been honoured to share the stage with the likes of Oka, Delhi to Dublin, Hanson, Jon And Roy, Railroad Earth, Maria In The Shower, United Steel Workers of Montreal, Carolyn Mark, Geoff Berner, David Francey, CR Avery, Fish and Bird, and Miss Emily Brown. In addition to touring summer festivals and the North American music circuit, TMO also regularly donates their time and music to community events, fundraisers and awareness campaigns as well as consistently bringing fresh new bands in from the Pacific Northwest and across Canada to Vancouver and Victoria BC.
thetequilamockingbirdorchestra.com