Top Men + The Righteous Rainbows of Togetherness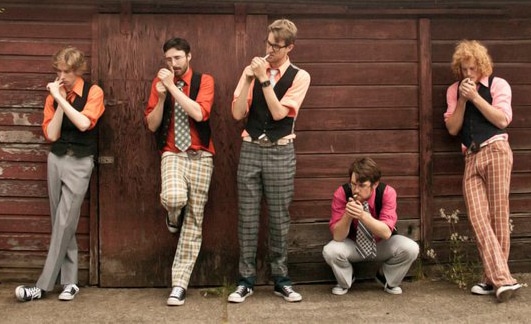 December 12, 2015 @
The Waverley Hotel
A zany evening of electronic shenanigans and live techno.
Top Men
Based in Nanaimo, BC, Top Men rose out of a passion for electronic music, exciting performance, and idle hands during a University faculty strike in 2011.
As Paul and Chris, were getting to know each other it came up that they were both secretly fans of electronica/techno music. After some discussion Paul said, "You know, we could play this music." To which Chris quickly responded, "Okay. We'll be called Top Men."
It was initially assumed that audiences didn't have an interest in electronic music so the group – now including Brendan and Liam – decided that lavish stage setups and theatrics would give people something to engage with. This concept immediately went off the rails, leading to shows concerning cyborg surgery, time travel, romantic dinosaurs, digital revolutions and many more. Most recently they have put on a string of film tribute shows paying homage to classic science-fiction movies "La Voyage Dans la Lune", "Metropolis" and mostly recently James Cameron's "Aliens". Not only did these shows feature original music written exclusively for these performances, they also involved working with some of Nanaimo's finest artists and performers, with upwards up 20+ people involved in their execution.
Through their unique blend of live electronic music and conceptually driven performance the Top Men have a garnered a dedicated following and plan to spread their influence o'er the land.
The Righteous Rainbows of Togetherness
Tom and Neil have been playing all-hardware live PA spanning genres such as techno, tech house, bass wobbles and acid for over 10  years. This duo from Victoria, BC, Canada throws down everything from dub techno to acid trance at the best venues in BC and tours extensively throughout the festival season.
topmenband.com