Tower of Song: a Creative Tribute to the music of Leonard Cohen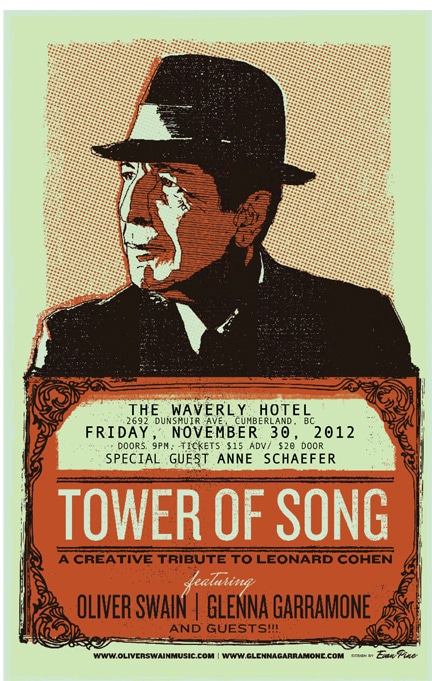 November 30, 2012 @
The Waverley Hotel
Featuring performances by Oliver Swain, Glenna Garramone, and special guest Anne Schaefer. Listen to these three amazing musicians interpret one of Canada's most revered songwriters and poets, Mr. Leonard Cohen.
Tower of Song is a creative tribute to the music of Leonard Cohen, presented by three celebrated BC singers and songwriters: Oliver Swain, Anne Schaefer, and Glenna Garramone. A night of rare and classic selections from the Leonard Cohen cannon fearlessly interpreted by these artists, with a few original compositions and readings, round out an evening that celebrates Canada's greatest bard and his influence on modern songwriting. After sold-out shows in Victoria and on Hornby Island, BC, Tower of Song is expanding their geographical range to put "more power in the tower!"
Produced for the first time in June of 2011 at Vancouver's Media Club, Tower of Song gave Swain and Garramone the chance to collaborate on Cohen's rich material, and the chemistry was obvious — to them and to the packed house at the Media Club. In the spring of 2012 they teamed up again for a sold out show at Victoria's Hermann's Jazz Club, with production duties and the artistic direction being shared as collaboration between the two artists. They frequently collaborate with special guest artists to showcase the broad range of Cohen's writing. Previous guests include Leah Abramson (The Abramson Singers), Spoken word poet Shayne Avec I Grec (Two Dope Boys in a Cadillac), Melisa Devost, and Kent McAlister. This time they will be joined by special guest Anne Schaefer, an award-winning vocalist and musician.
Oliver Swain is a worker in song. After a dozen years in some of North America's most loved roots bands (Outlaw Social, The Duhks, The Bills) Oliver released 'In a BIG MACHINE' in 2011 to rave reviews. "Oliver Swain's brilliant vocals and genre-agnostic style make 'In a BIG MACHINE' one of the most exciting new releases on the Canadian folk scene in some time" – Lucinda Chodan, Edmonton Journal. 'In a BIG MACHINE' Charted in the top 40 in 2011 on Canadian Folk DJ charts and peaked at #1 in Alberta and #3 in BC. A naturalist musician who was drawn to Louisiana and Appalachia several times to discover the roots of American music for himself, Oliver now resides in Victoria where frequent solo journeys into the rugged BC wilderness fuel his original take on songwriting and traditional playing and singing styles. Performing on Banjo and String Bass, Oliver's live show has attracted a lot of attention over the last year including that of Tamara Kater, Executive Director of Folk Music Canada: "Since I first discovered him in 2008, Oliver Swain has been one of my very favorite artists – especially in a live setting. His performances are a musical journey that takes you from haunting old-time melodies to soaring new songs… sweeping vocal stylings, dazzling and dramatic skills as an instrumentalist, an evening spent with Oliver Swain will leave you breathless and joyful." In his spare time Oliver founded FolkWest in 2011 and is now the Artistic Director of the three-day annual music festival at Victoria's Royal Athletic Park. He has no pets. Visit http://www.oliverswainmusic.com/ for more info.
Winner of Vocalist of the Year at the 2004 Island Music Awards, Songwriter of the Year and Artist of the Year at the 2005 IMA, and Favorite Jazz Artist at the 2006 M Awards, Victoria-based singer/songwriter Anne Schaefer attracted national and international attention with the 2005 Canadian release of her debut album, Twelve Easy Pieces (Roadhouse Records/SRI). Anne Schaefer combines intelligent lyrics with a genre-blurring musicality that combines elements of jazz, folk, and world music. Funny, smart, emotionally honest and very charismatic, Schaefer is a local treasure and mesmerizes audiences with her unique brand of everything. "…An exceptional voice, a poet's eye, a courageous heart…" Greg Quill – Toronto Star
Visit http://www.anneschaefer.com for more info.
Glenna Garramone's music is a reflection of her fascination with the edge. Inspired by the geography and spirit of the places she has lived, from Nunavut to Hawaii, she harmonizes the experimental with the classical, and the unexpected with the organic. What happens when you meld a classically trained pianist and vocalist, a bi-lingual songwriter, a guitarist, and a dancer into one person on stage? You might witness an approximation of Glenna Garramone's live show. Glenna Garramone crafts "raw, emotional, and utterly captivating" songs (John Threlfall, Monday Magazine), using anything from piano to her tap shoes, or a shaker made from lentils in a film canister. And that voice. Somewhere between Keith Jarrett and Joni Mitchell, Glenna Garramone's unique approach to songwriting was recognized when she earned the Grand prize in the 2010 Artswells Songwriting Contest. Garramone also holds a BFA in Writing from the University of Victoria, with a major in Poetry. Recorded in a solar-powered yurt on Molokai'i, Hawaii, her newest album, Thank You Half Moon will be officially released in Spring 2013. When she's not traveling, Glenna resides in Victoria. Having spent 8 years producing music events in Victoria (including Wimmin in Music and The Solstice Series), Glenna is thrilled to be expanding the Tower of Song to stages across Canada, collaborating with other artists, and co-creating a tribute to one of her musical heroes, the great Leonard Cohen. Visit http://glennagarramone.com/ for more info.

Click here for a Leonard Cohen favourite, "Dance Me to the End of Love".
http://www.leonardcohen.com/ca